Hi everyone,  I'm Carl and I have been fishing bass since I was a kid.
I remember taking my bike, as a kid, with my friend and cycling 25 km to this little lake, just to sit there and catch almost nothing after a full day out there. Coming back home and before saying by to my friend, I would ask him; "you want to back tomorrow". You can tell by this that I'm not a pro.
The reason I created this web site is to help people like me who loves to fish small or large mouth bass and are not pro. To do this I will share some of my experiences and allow you to share yours. Try to make this site a world of knowledge.
It is very important to me that you feel free to get involve with me in making this site the best place out there for non professional bass fisherman lovers like me.
Who am I …
I'm a 47 years old, husband of a beautifull wife and  father of two teens, boy and a girl.  Finding it hard to squeeze as many outings as possible between driving one kid to soccer, football and driving lessons. You get my drift.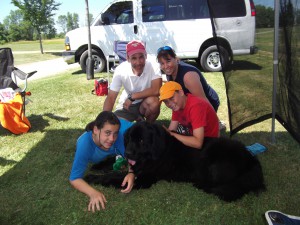 I guess I should also tell you that were I live, we have four real seasons. So depending on how late of a spring we get and how early the winter arrives it has an impact on the amount of outings I get. Like I said up above, I'm not a pro. I have been fishing bass since I was about 12 years old. I don't have a big boat and tons of money to pay for the gas that goes with it. When a beautiful boat goes by me I dream of the day I can own one. I fish with a 14 footer aluminum boat that I pull with my old 1999 truck.
Why did I say all that. Well, just to prove that you don't need much to have fun and enjoy your passion, fishing.
Happy fishing
Cheers
Carl
Founder of : thebassfishingworld.com